---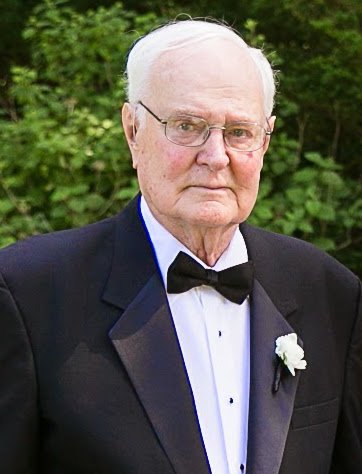 Obituary of Ernest J. Harriman
Ernest J. Harriman, beloved husband, father, grandfather, great-grandfather and Sensei, died peacefully in his sleep on December 17, 2018 at the age of 93. Ernie and his wife of 70 years, Anne Rowe Harriman, married in 1948 and created their own personal dynasty, which resulted in 9 children, 16 grandchildren and 11 great-grandchildren. Ernie passed along his great sense of humor and his love of family, the ocean and seafood to his children and grandchildren. In addition to his wife Anne, seven of his nine children survive him: Joy, Kathy, Susan and Bill Harriman; Lori Sylvester (Brad); Anne Geller (David); and Jill Shea (Patrick). Son Corky and daughter Janis Klurfeld and her husband Scott predeceased him. He is also survived by his grandchildren: Marc Doyle (Lucy Oblonsky); Adam Doyle; Mollie Williams (Bill); Zachary Klurfeld (Zakieh); Brendan Mahady; Kelly Desrosiers (Mike); Natalie Wittenbrook; Emily Murphy (Adam); Julie Schmidt (Jeff); Meredith Harris (Billy); Joy Harriman; Kyle Harriman; Alexa Geller; Haley Geller; Lauren Shea; and Rachel Shea, and by his great-grandchildren: Jason and Alenka Doyle; Wesley and Luke Williams; Charlie and Owen Desrosiers; Liam and Cole Murphy; Nai Schmidt; and Shay and Kai Harris. Ernie also leaves behind his sister Norma May of Orleans, Massachusetts.
Ernie was born on May 6, 1925, the eldest of three children (brother Rollie and sister Norma), to Ernest and Alice Burke Harriman in Providence, Rhode Island. A lifelong Catholic, he served as an altar boy to the bishop of Rhode Island and attended LaSalle Academy, which he left early (with diploma in hand) to enlist in the Navy in 1943. He was a noncommissioned officer, serving on destroyer escorts as a radarman in both the Atlantic and Pacific until his honorable discharge on February 19, 1946. Ernie began his professional career selling life insurance for the Knights of Columbus and eventually became a Regional Director in the home office in New Haven, Connecticut. An avid reader, Ernie's other passions were gardening and teaching and studying Uechi-Ryu karate. He was a seventh-degree black belt and ran a dojo in Hartford, Connecticut. He especially loved teaching Uechi-Ryu to children and founded the Uechi-Ryu Karate Children's Tournament in 1990, which he chaired for more than 17 years. But more than anything, he loved hanging out with his wife and family – cracking jokes, playing cards, and teaching the kids how to dig for clams and quahogs and to play chess.
A special Mass celebrating Ernie's life will take place on Saturday January 5, 2019 at 11:00 a.m. at The Church of St. Dunstan, 1345 Manchester Road, Glastonbury, Connecticut. Burial with military honors will follow in Holy Cross Cemetery, Glastonbury. As an expression of sympathy, memorial donations may be sent to the charity of your choice. For online condolences please visit www.mulryanfh.com.