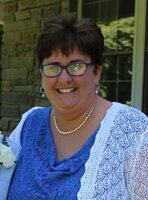 Karen Eileen Flynn
Karen Eileen (McGuire) Flynn, 51, of South Glastonbury passed away unexpectedly at home on Tuesday, September 7, 2021. She was the beloved wife of Enda Flynn.
Born in Hartford, Karen was the daughter of Brian and Carol (Gosse) McGuire. After growing up in East Hartford, she moved to Glastonbury and has resided there for almost 30 years. Karen started her education at Ona M. Wilcox College of Nursing and earned her Bachelor's Degree from the University of Hartford, became a Registered Nurse, and has been working in the Labor and Delivery department of Hartford Hospital for many years. She enjoyed spending time with her family and friends, walking the dogs, and finding great deals at consignment stores and tag sales. Karen will be missed so much by so many.
In addition to her husband and parents, she is survived by her two daughters Lauren and Meghan, her son Aidan, her sister Kimberly Giordano and her husband Vince of Tolland and their children Cole, Noah and Nathan. She is also survived by many other aunts, uncles, cousins, nieces, nephews, friends, her Hartford Hospital family, and the customers she had friendly conversations with at their family restaurant Flynn's Grill.
A Mass of Christian Burial will be celebrated on Monday, September 13, 2021 at 10:00 am at Ss. Isidore and Maria Parish at St. Paul Church, 2577 Main St., Glastonbury. Burial will be in Holy Cross Cemetery. Friends may call on Sunday, September 12, 2021 from 1:00 pm to 4:00 pm at Mulryan Funeral Home, 725 Hebron Ave., Glastonbury. Masks are required.