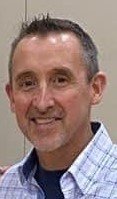 Vincent Dennis Colonna, Jr.
Vincent D. Colonna, Jr., 50, of Amston passed away unexpectedly on Monday, April 5, 2021. He was the husband of Lisa (Boehler) Colonna.
Born in New Haven, he was the son of Vincent D. Colonna, Sr. and Mary Ann (Bartolotta) Colonna. Vincent graduated from Fairfield College Preparatory School and earned his Bachelor Degree from Providence College. He was Director of Sales at Colonna Insurance Services. He was an active member of The Worship Center, deeply involved throughout the Hebron community, and an advocate within the RHAM School system. Many students and parents will always remember his role as "DJ Vinny" for multiple sporting events. He will always be in their hearts.
In addition to his wife and parents, Vincent is survived by his three sons; Matthew, Nicholas and Michael Colonna, his daughter Marissa Colonna, his brother Jeffrey Colonna and his wife Corey of GA and their 3 children, Julia, DJ, and Emily; two sisters Andrea Evans and her husband Richard of Guilford and their 3 children, Mary, Tania and Kimmy; Tania Beck and her husband Glenn of TX and their children, Mary, Hannah, Raphe and Cheyenne; his in-laws Don and Pat Boehler of Glastonbury; his brother in-law Todd Boehler and wife Jenn of Hebron and their 2 children Josh and Jake. He has many aunts and uncles and cousins who will miss him dearly, including his many good friends from childhood, high school and college.
Friends may call on Friday, April 9, 2021 at Mulryan Funeral Home from 4-7pm, 725 Hebron Ave., Glastonbury. In order to adhere to current COVID 19 mandates, masks are required and six feet of social distancing will be maintained. Private Funeral services will be held on Saturday, April 10, 2021 at The Worship Center, 99 Marjorie Circle, Hebron. In lieu of flowers, please consider donating to https://gofund.me/5c0a7689