---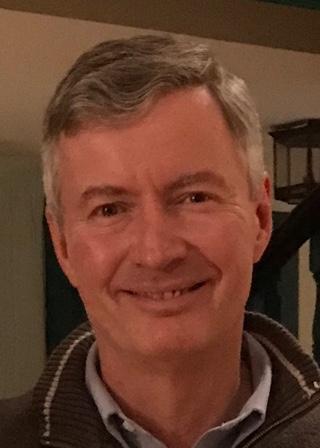 In Memory of
Thomas M. McAuliffe
1955 - 2017
Obituary of Thomas McAuliffe
Thomas M. McAuliffe, 62, of Glastonbury, beloved husband of Patricia R. FitzGerald, died unexpectedly at his home on Friday, June 9, 2017. Our hearts are heavy with the loss of a loving husband, father and son.
Born May 8, 1955 in Kansas City, Missouri, Tom was the son of Mildred McAuliffe and the late Lawrence McAuliffe of Overland Park, Kansas. He graduated from Rockhurst High School in Kansas City and from St. Louis University, where he received his BS, MA and Ph.D. Tom was a Psychologist for CREC Polaris in East Hartford for over twenty years.
Tom will be remembered for his tender heart, clever humor and patient manner that extended beyond his personal and family life. His talents led him to a career helping children and adolescents with emotional and behavioral disabilities.
Having met in graduate school, Tom and Pat were married for 31 years and both found careers in clinical psychology. The couple found joy stealing away for long weekends to the scenic reprieve of Northern New England. Tom had a special affinity for Bar Harbor, Maine and Portsmouth, New Hampshire and especially enjoyed hiking and taking photographs.
Throughout their marriage, Tom and Pat spent countless hours in their garden, sitting underneath the slight overhang of the rhododendrons where they would enjoy the company of the roses that returned for them every year, as well as the soft calls of cardinals and finches, that also seemed to always return.
Red dog leash in hand, Tom will be remembered by his neighbors for his routine morning and evening walks with the family Golden Retriever, Maggie.
Tom was a proud and especially vocal fan of the UConn Men's basketball team and an ardent and frequent contributor to the Boneyard online message board where, according to one member, if they had "numbers like the team, his would be retired."
He had a deep love of music, especially for Steely Dan and Van Morrison, and of theater and would enjoy family trips to Goodspeed Opera House to walk along the Connecticut River and catch an evening show.
Besides his wife and mother, he is survived by his two loving children, Sean T. McAuliffe of Glastonbury and Kate R. McAuliffe of New York City, and his siblings, Lawrence McAuliffe and Patricia Akright, who both live in Overland Park, Kansas.
He is also survived by multiple cousins and nieces and nephews. Particularly close to him were his sister-in-laws, Maureen E. FitzGerald, Julia Nielsen (Philip), Rose Holloway (Robert) and brother-in-law, James FitzGerald (Yvonne).
A celebration of Tom's life will be held Tuesday, June 20 at 11am in the Mulryan Funeral Home, 725 Hebron Ave., Glastonbury. Reception to follow at Manchester Country Club. Friends may call at the funeral home on Monday June 19 from 4-7pm. In lieu of flowers, memorial donations may be made to the CT Children's Medical Center Foundation, 12 Charter Oak Place, Hartford, CT. 06106. For online condolences please visit www.mulryanfh.com.
Who We Are:

Mulryan Funeral Home is family owned and operated and has been serving Glastonbury and surrounding communities for many years.

Our Location:

725 Hebron Ave.
Glastonbury, CT

Phone: 860-652-4436


Quick Links: